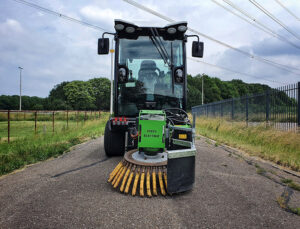 AllTrec 8015F
Zero emissions, All Wheel Drive, a comfortable cabin and IoT for next-level aftersales capabilities.
The AllTrec 8015F is an innovative electric tool carrier that fully complies with the climate agreement and is ready for intensive professional use.
Work during the day and recharge overnight.
Developed entirely from scratch, without unnecessary energy consumers, makes the 8015F an extremely efficient machine. With a battery capacity of up to 67 kWh, this electric tool carrier has enough stamina for a full working day.
The 8015F is multifunctional. In addition to mowing grass, users can brush and thermally control weeds. Clearing leaves is also possible with a quiet, powerful leaf blower. With a comfortable cabin (more on the Cabin) and All Wheel Drive, the versatile 8015F is very suitable for use all year round.
All versions come with our own ATC system (more on Advanced Torque Control) and an energy-saving steering system called EPAS (more on Electric Power Assisted Steering). ATC ensures maximum grip, pleasant steering characteristics and a specific power delivery that suits different working conditions. An IoT module (more about IoT) ensures that the 8015F is continuously connected to the internet, allowing enormous amounts of data to be collected and analysed. This data is then used for product improvement and support, fleet management, making it possible to increase the efficiency of the machine and share important information with clients.
Optional with:
2WD or AWD
Cabin or ROPS

Battery capacity of 50 or 67 kWh

Battery heating for working in winter conditions
Rear ePTO for powering applications at the rear
Brochures:
All Wheel Drive and the ATC system
Individual wheel motors and ATC. Advanced Torque Control ensures maximum grip and an engine character that varies under different working conditions.
Comfortable Cabin
Air conditioning, heating, a comfortable air suspended seat with seat heating and  an ergonomic joystick or fingertips for controls. It is pleasant to work in this "office".
Energy saving EPAS system
Electric Power Assisted Steering. The modern standard in automotive. A first in our industry. Super efficient and maintenance free.
IoT – Knowledge is Power
A constant connection with machines in the field. For product improvement and support, fleet management, predictive maintenance, improved efficiency and more.
Technical specifications AllTrec 8015F
Traction System
Individual wheel motors with ATC*. Standard front wheel drive, AWD optional
Speed
25 km/u forwards | 10 km/u backwards
Battery technology
LiFePO4
Charging
Onboard charger (4 – 8 hr)
Charging options
230V / 380V 3 phase / Type 2 chargingstation
Tires, brakes and steering
Tires front
Vredestein 320/55-12 Greentrax (26x12-12)
Tires rear
Vredestein 210/60-10 Greentrax (20x8-10)
Braking
Hydraulic brakes on the front wheels
Parking brake
Mechanical brakes on the front wheels
Steering
Rear wheel steering. Mechanically steered, electrically powered (EPAS)
Control
Right armrest with joystick control and fingertips
Seat
Air suspended, fully adjustable with seat heating
Steering column
Adjustable steering column
Display
Color display at the armrest
Work lights
LED worklights at the front and LED alarm beacon all around
Cabin
Optional. Cabin including: air conditioning & heating, bluetooth radio, USB power supply, integrated work and alarm lighting, windscreen wiper with sprinkler system, rear window can be opened completely, two full glass doors with ajar position.
Height [H]
2150 mm with cabin
Width [B]
1420 mm (with narrow front wheels 1300mm)
Height plateau [X]
1200 mm
Weight with cabin
1570 kg (50 kWh) / 1730 kg (67 kWh)
Weight with ROPS
1290 kg (50 kWh) / 1450 kg (67 kWh)
Lifting device attachments
Max lifting capacity
200 kg one meter in front of the front axle with a heavier attachment, this must be compensated at the rear
Operation
Hydraulic, double acting with pressure relief
ePTO
Electrical supply, maximum 16 kW. Optional second ePTO at the rear
Hydraulics
Standard equipped with 3 DW functions on the front (4l/min - 180bar)